Intel Advanced/EV
From Vogons Wiki
Intel Advanced/EV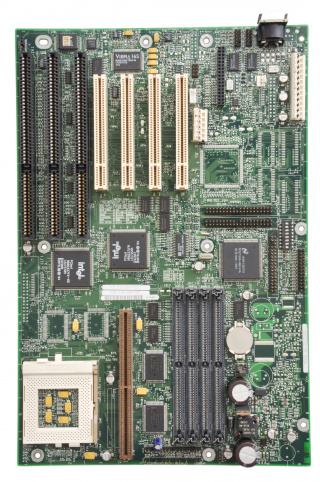 Bus type
PCI
Bus width
32-bit
Bus speed
33 MHz
PCI 5V tolerant?
Unknown

"Unknown" is not recognized as a Boolean (true/false) value.

PCI 3.3V tolerant?
Unknown

"Unknown" is not recognized as a Boolean (true/false) value.

Manufacturer
Intel
Chipset
Intel 430FX
Compatible with
IDE, PC Floppy, RS232, LPT, AT Keyboard
Connectors
RS232/DB9, LPT, AT Keyboard
Requires -5VDC?
Unknown

"Unknown" is not recognized as a Boolean (true/false) value.

Requires -12VDC?
Unknown

"Unknown" is not recognized as a Boolean (true/false) value.

Motherboard
Form factor
Baby AT
Power connector
CPU socket
Socket 5 + COAST
ISA slots
3 @ 16-bit

PCI slots
4 @ 32-bit 33MHz

RAM slots
4 @ 72-pin

Maximum RAM

128MB

134,217,728 B

Boot ROM
Soldered, PLCC32, read-write
IDE Controller
IDE buses
2
Primary?
Yes
Secondary?
Yes
Tertiary?
No
Quaternary?
No
ROM type
None
Floppy Controller
Floppy buses
1
Drives per bus
2
Secondary?
No
ROM type
None
Audio
Model
CT2504 (Vibra 16S)
Full duplex
Yes
Max sample rate
Unknown
Channels
2
FM synth
OPL3
Internal
connectors
Factory memory

0 MB

0 B

CD interface
None
IO Controller
Serial ports
2
UART
COM1/2/3/4?
Yes / Yes / Yes / Yes
Parallel ports
1
Bi-dir?
ECP?
EPP?
LPT1/2/3/4?
Yes / ?

"?" is not recognized as a Boolean (true/false) value.

/ No / No
Game ports
1
Manual
http://www.elhvb.com/mobokive/Archive/Intel/Advanced-EV_28183501.pdf
Driver
Missing download URL
The Intel Advanced/EV (codename Endeavour) is a Socket 5 Pentium 1 motherboard capable of up to 133MHz operation. It is also available in Socket 7 variants.
The board has optional onboard audio (Creative Labs Vibra 16S/CT2504) with an YMF289(OPL3) and optional onboard video (S3 Trio64V+). Booting from CD is not possible without a third-party bootloader.
The board can be emulated in PCem.
Additional photos
Audio
The optional onboard audio is provided by a Creative Labs CT2504 Vibra 16S chip. While not plug-and-play, the BIOS allows the I/O resources to be configured as needed.
The rear plugs are provided by a custom riser board that occupies a rear slot. It does not obscure any ISA or PCI slots as none are present at that position. Some versions of the riser card have a connector for front panel audio, although it is unknown whether this matches the later standard pinout for front panel audio.
If no speakers are connected, the output of the sound card will automatically switch to the built-in PC speaker.
On-board OPL3
According to the Specification Update document from Intel, the onboard OPL3 can't be disabled.
MIDI Upgrade
The board has a connector for the optional MIDI upgrade. A SoundBlaster AWE32 Upgrade card (Goldfinch upgrade, CT1920/CT1922) can be used for this upgrade. The on-board Vibra doesn't decode the highest address bits, so you have to configure ports in a non-canonical way (for example 0x220 for the Vibra and 0x640 for the AWE32).
Power Management
The board provides very basic power management support: Hard drives and the video output can automatically be powered down after a configured time of inactivity.