Headland HT12
From Vogons Wiki
Headland HT12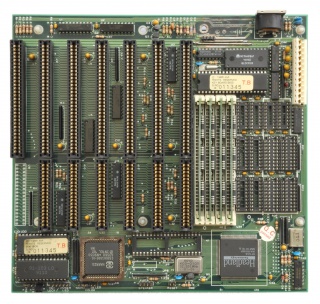 Bus type
ISA
Bus width
16-bit
Bus speed
32 MHz
8-bit ISA compatible?
Yes
Manufacturer
Headland Technologies
Chipset
Headland Technologies HT12
Compatible with
AT
Connectors
AT Keyboard
Requires -5VDC?
Unknown

"Unknown" is not recognized as a Boolean (true/false) value.

Requires -12VDC?
Unknown

"Unknown" is not recognized as a Boolean (true/false) value.

Config method
Jumpers, Software
Motherboard
Form factor
Baby AT
Power connector
CPU socket
Unknown

"Unknown" is not in the list of possible values (Socket 5, Socket 7, Socket 8, Slot 1, Socket 370, PLCC68, Socket 3) for this property.

ISA slots
1 @ 8-bit
6 @ 16-bit

RAM slots
4 @ 30-pin

Maximum RAM

4MB

4,194,304 B

Boot ROM
Socket, 28-pin JEDEC, read-only
Manual
Vogonsdrivers
Driver
Vogonsdrivers
The Headland HT12 is a 286 motherboard capable of up to 16MHz operation, with hardware EMS support.
The manufacturer of this board is currently unknown, so it has been documented here as the Headland HT12.
Additional photos
Memory
Hardware EMS
This motherboard works with the HT12 chipset drivers, which provide an EMS interface allowing a chosen amount of memory above 1MB to be accessed as EMS. Thus it is possible for this board to be configured to have conventional, EMS, XMS and Int15 extended memory available, all at the same time.
UMBs
The chipset does not natively support backfilling unused parts of upper memory with UMBs. However if EMS support is not required, third party drivers can use the hardware EMS facility to make a small amount of memory available in as UMBs.
External links