Intel 8∕16 LAN Adapter
From Vogons Wiki
Intel 8∕16 LAN Adapter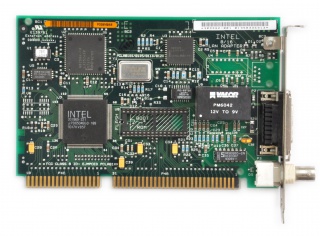 Bus type
ISA
Bus width
16-bit
Bus speed
8 MHz
8-bit ISA compatible?
Yes
Manufacturer
Intel
Chipset
i82586
Connectors
AUI, BNC
Requires -5VDC?
No
Requires -12VDC?
No
Config method
Software
Ethernet
Boot ROM
Socket, 32-pin JEDEC, read-write
Driver
Download Page
The Intel 8∕16 LAN Adapter is a 10Mbps network card. It is notable for being compatible with the IBM PC/XT because of its dual 8-bit / 16-bit operating modes. There are several revisions of the card which have different physical interfaces at the back. Revisions include: RJ45 + dsub15, BNC + dsub15, and possibly more.
Additional photos
Boot ROM
This card's boot ROM socket takes a standard 32-pin EEPROM chip, as well as 28-pin EEPROM chips such as the 28C64. It has been tested extensively with the 28C64 chip flashed with XT-IDE BIOS images, both XT and AT versions. It is a reliable way to boot from a modern era hard drive connected to an XT or AT class system whose BIOS would not natively support it.
DOS Support
The card's DOS drivers come with a configuration program (SOFTSET.EXE) that can be used to enable the ROM socket (it is disabled by default) and set the base address, as well as adjust all the usual options like the I/O address and IRQ. There is a configuration option to force 8-bit operation even while plugged into a 16-bit ISA slot. The packet driver for DOS works perfectly with the MTCP suite from FreeDOS.