GoldStar Prime 2C MKIII
From Vogons Wiki
GoldStar Prime 2C MKIII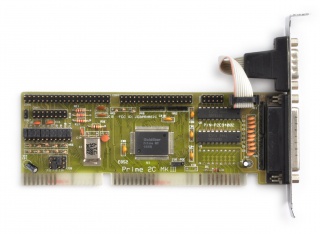 Bus type
ISA
Bus width
16-bit
Bus speed
8 MHz
8-bit ISA compatible?
Manufacturer
GoldStar
Chipset
GoldStar Prime 2C
Compatible with
IDE, PC Floppy, RS232, LPT, Gameport
Connectors
RS232/DB9, LPT
Requires -5VDC?
No
Requires -12VDC?
Yes
Config method
Jumpers
IO Controller
Serial ports
2
UART
COM1/2/3/4?
Yes / Yes / Yes / Yes
Parallel ports
1
Bi-dir?
ECP?
EPP?
LPT1/2/3/4?
Yes / Yes / No / No
Game ports
1
Floppy Controller
Floppy buses
1
Drives per bus
2
Secondary?
Yes
ROM type
None
IDE Controller
IDE buses
1
Primary?
Yes
Secondary?
Yes
Tertiary?
No
Quaternary?
No
ROM type
None
Driver
N/A
The GoldStar Prime 2C MKIII is a Super I/O board from GoldStar using their own chipset.
The card's part number is P2C94002.
The TH99 entry has some mistakes, such as a jumper toggling between "primary IDE enabled" or "secondary IDE disabled". Since there is already a separate jumper to enable/disable the IDE interface, this is actually meant to switch the interface between primary and secondary when it is enabled. The same goes for the floppy interface.
This card is notable because the serial ports can be set to use IRQs 5 and 9, which will prevent them from conflicting with the default IRQs of 4 and 3, should the card be added as an additional controller.
The pinout for the serial headers is currently unknown. There are two types in common use. This page should be updated when the correct type is known.
Additional photos
Related links