Athlon 750 Benchmarks
From Vogons Wiki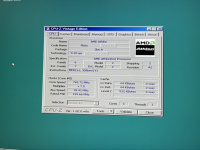 This is a generic Athlon (Pluto) 750MHz machine.
Specs
Athlon Classic Slot A 750MHz Pluto
192mb PC100 SDRAM
Windows 98se
AMD 751 based compaq motherboard with via south bridge VT82C686
Benchmarks
CPU
CPU-Z Vintage Edition 1.02
GPU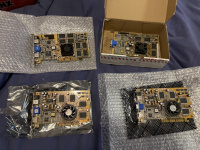 Note there seems to be some issues with 12.41 drivers and some of the cards, so I have also tested with 44.03.
AGP drivers for the chipset also makes a big difference.
There are clearly CPU bottlenecks towards the higher end.
TNT2 M64 AGP 32MB. 125MHz Core, 143MHz RAM 64bit - 12.41 Drivers
TNT2 M64** AGP 32MB. 125MHz Core, 143MHz RAM 64bit - 44.03 Drivers - AMD 751 AGP Driver
TNT2 AGP 32MB. 125MHz Core, 150MHz RAM 128bit - ASUS V3800 - 12.41 Drivers
TNT2** AGP 32MB. 125MHz Core, 150MHz RAM 128bit - ASUS V3800 - 44.03 Drivers - AMD 751 AGP Driver
GeForce 256 SDR AGP 32MB. 120MHz Core, 166MHz RAM 128bit - ASUS V6600 - 12.41 Drivers
GeForce 256* SDR AGP 32MB. 120MHz Core, 166MHz RAM 128bit - ASUS V6600 - 44.03 Drivers
GeForce 256** SDR AGP 32MB. 120MHz Core, 166MHz RAM 128bit - ASUS V6600 - 44.03 Drivers - AMD 751 AGP Driver
GeForce 256** DDR AGP 32MB. 120MHz Core, 150MHz RAM 128bit DDR - 44.03 Drivers - AMD 751 AGP Driver
GeForce 2 GTS** AGP 32MB. 200MHz Core, 166MHz RAM 128bit DDR - 44.03 Drivers - AMD 751 AGP Driver
GeForce 3 Ti500** AGP 64MB. 240MHz Core, 250MHz RAM 128bit DDR - 44.03 Drivers - AMD 751 AGP Driver
Quake 3 Demo Timedemo 1
| Resolution | TNT2 M64 | TNT2 M64** | TNT2 | TNT2** | GeForce 256 | GeForce 256* | GeForce 256** | GeForce DDR** | GeForce 2 GTS** | GeForce 3 Ti500** | |
| --- | --- | --- | --- | --- | --- | --- | --- | --- | --- | --- | --- |
| 640x480 (default settings) | 35.6fps | 39.1fps | 57.1fps | 66.2fps | 77.6fps | | 97.8fps | 101.1fps | | | |
| 1024x768 (Lightmap, High, Trilinear, 16bit) | 24.6fps | 25.8fps | 29.7fps | 31.8fps | 54.7fps | | 72.3fps | 79.6fps | 95.1fps | | |
| 1024x768 (Lightmap, High, Trilinear, 32bit) | 12.9fps | 13.2fps | 22.3fps | 23.4fps | 40.9fps | 40.7fps | 53.3fps | 67.6fps | 82.3fps | 95.2fps | |
| 1280x1024 (Lightmap, High, Trilinear, 32bit) | | | | | | | | 38.5fps | 55.4fps | 90.6fps | |
Return to Castle Wolfenstein
Rename extension to dm_60 and then run timedemo 1, demo checkpoint
| Resolution | TNT2 M64 | TNT2 M64** | TNT2 | TNT2** | GeForce 256 | GeForce 256* | GeForce 256** | GeForce DDR** | GeForce 2 GTS** | GeForce 3 Ti500** |
| --- | --- | --- | --- | --- | --- | --- | --- | --- | --- | --- |
| 640x480 (Fast Default/32bit) | | | | | | | | 59.2fps | | |
| 1024x768 (Lightmap, High, Trilinear, 32bit) | 8.9fps | 11.6fps | 12.1fps | 18.9fps | 11.8fps | 12.0fps | 28.2fps | 33.9fps | 37fps | 46.3fps |
| 1280x1024 (Lightmap, High, Trilinear, 32bit) | | | | | | | | 17.4fps | 22.8fps | 49.6fps |
3DMark2000
| Resolution | TNT2 M64 | TNT2 M64** | TNT2 | TNT2** | GeForce 256 | GeForce 256* | GeForce 256** | GeForce DDR** | GeForce 2 GTS** | GeForce 3 Ti500** | |
| --- | --- | --- | --- | --- | --- | --- | --- | --- | --- | --- | --- |
| 1024x768 16Bit (default) | 1713 | 2029 | 2239 | 2698 | 2284 | 3575 | 4134 | 4431 | 4714 | 4966 | |
| 1280x1024 16Bit | | | | | | | | | | | |
3DMark2001se
| Resolution | TNT2 M64 | TNT2 M64** | TNT2 | TNT2** | GeForce 256 | GeForce 256* | GeForce 256** | GeForce DDR** | GeForce 2 GTS** | GeForce 3 Ti500** | |
| --- | --- | --- | --- | --- | --- | --- | --- | --- | --- | --- | --- |
| 1024x768 32Bit (default) | 589 | 794 | 851 | 1193 | 469 | 1654 | 2048 | 2334 | 2457 | 4399 | |
| 1280x1024 16Bit | | | | | | | | | | | |